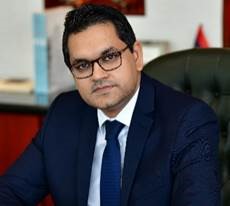 Mr Harvesh Kumar Seegolam was appointed as Governor of the Bank of Mauritius with effect from the 1st of March 2020 by His Excellency Prithvirajsingh Roopun, G.C.S.K., President of the Republic, in accordance with Section 13 of the Bank of Mauritius Act 2004, and upon the recommendation of the Prime Minister.
Prior to his appointment as Governor of the Bank of Mauritius, Mr Seegolam was the Chief Executive of the Financial Services Commission (FSC) since July 2017.
In his previous position, Mr Seegolam spearheaded numerous national initiatives with respect to the development and regulation of Financial Services. He has equally been instrumental in delivering on the national strategy with respect to the 10-year Blue Print for the financial services sector.
Driving a culture of innovation throughout the industry, Mr Seegolam has been at the forefront of the establishment of the National Regulatory Sandbox Licence Committee in 2018, and is a member of the Mauritius Artificial Intelligence Council.
Over the last years, Mr Seegolam has been a key contributor and a member of various technical committees at the level of the Organisation for Economic Cooperation and Development (OECD). He has driven the setting up of the FSC Regional Centre of Excellence – an initiative launched in collaboration with the OECD, aiming at furthering capacity building and research in the fields of financial services, competition and digital finance in Sub Saharan Africa for regulatory bodies and law enforcement agencies.
Prior to joining the FSC, Mr Seegolam launched and ran the Financial Services Promotion Agency with the mandate of promoting Mauritius as an International Financial Centre. Mr Seegolam has equally been part of the strategic team leading the Board of Investment of Mauritius, now the Economic Development Board, where he was in charge of the Innovation, Technology and Services cluster.
Governor Seegolam holds a BSc (Hon) in Economics and an MSc in International Finance, in addition to several other qualifications in accountancy and finance. He is an alumnus of the London School of Economics and Political Science, the University College London, Durham University, as well as, the SKEMA 'Grande Ecole de Commerce' in France.